Senior Center of Elk Grove
A modern space for adults 50 + to connect for exercise, classes, vital activities and lots of fun. The Senior Center of Elk Grove offers a welcoming, vibrant membership for all active adults.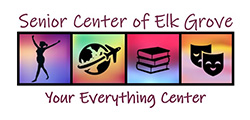 Contact
916.685.3160
See What Fun, Fit and Healthy Truly Looks Like
Enjoy lively workouts with amazing instructors and enjoyable music such as cardio drumming for the best of both exercise and entertaining music. Tai chi helps soothe the mind and body by using low impact movements to relaxing music with an outstanding instructor. Try a yoga class to continue your exploration of calm. We offer hatha yoga, chair yoga and gentle yoga. Line dancing offers the opportunity to stay fit while having fun with a group of exuberant participants.
Explore your creative side with the craft of writing. This monthly class offers motivating insights from published authors.  Bring your talent, canvas and favorite medium to the painting group. Share your ideas and inspiration with other creative artists.
Share afternoons of fun playing Bunco, Scrabble, bridge and pinochle with other interesting, like-minded people. Friday bingo brings a fun crowd to play at the Senior Center. Meet new friends, win prizes and learn to love yelling "bingo!"
Although we love to have fun, the Senior Center of Elk Grove has established itself as a crucial resource for the local senior community. We provide information regarding housing, legal services, Medicare and other needed assistance programs.
Please join us for a tour of our beautiful new Senior Center.